Since the preferential offering in Mar 2018, ESR-Reit (J91U.SI) is down 15%. New ESR-Reit preferential shares were issued at 0.54. The current price is 0.48.
It is also trading below the offer price of 0.54 of new ESR-Reit shares in proposed merger with Viva Ind Tr (T8B.SI).
Each time I see the price of ESR Reit dropping, I sort of regret not shorting earlier, lol. I do not hold any ESR-Reit shares.
I recently attended a talk on Reits by Gabriel Yap, and he highlighted some of the following potential issues below.
1) Impact of Hyflux debt restructuring
8 Tuas South Lane is leased to Hyflux Membrane Manufacturing Pte Ltd. Will Hyflux continue payments to ESR?
2) Debt tenor lengthens after merger?
I do not understand how the debt tenor can lengthen after merger. Need to check with the Reit Manager.
3) Hardly any improved cost of interest expected from merger
Current cost of debt is now 3.8%. Cost of debt of enlarged trust is expected to be 3.7%. Is this too low? My opinion is that savings of 0.01% is too little for all this trouble.
Here are some examples of the cost of interest of industrial Reits:
SoilbuildBizReit – 3.30%
Cache Log Tr – 3.46%
Aims Amp Cap Reit – 3.6%
Ascendas Reit 2.9%
Mapletree Ind Tr – 2.9%
4) Is the DPU accretive?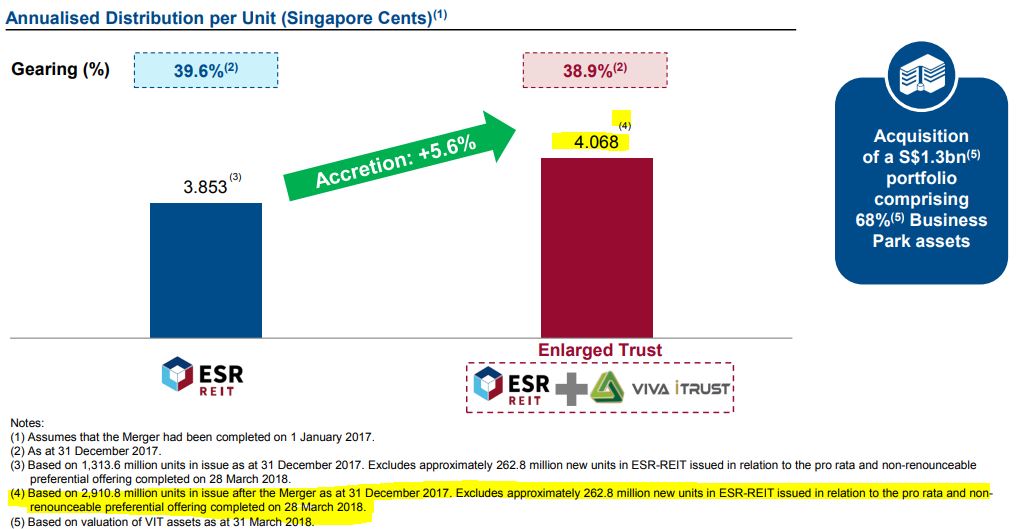 It is not clear why ESR choose to exclude 262.8M units preferential offering completed in Mar 2018.
5) Revenue increased, NPI increased, but DPU may not have increased
6) Is ESR overpaying for Vivia Business Park?
Viva Business Park remaining land lease is 13 years. Its valuation is S$350M. Can ESR squeeze more than $27M per year (350/13) from Viva Business Park?
7) Is ESR overpaying for Viva at 0.96?
NAV of Viva Ind Trust is 0.7595. At the time of offer price of Viva was 0.87. 0.96 is 20% above NAV and 10% above market price.
8) How much does ESR Reit Manager make from this proposed merger?
The Reit Manager stands to gain S$12.8M from this proposed merger.
9) ESR-Reit DPU trend has been falling
While Viva Ind Tr DPU trend has been steady, ESR DPU trend has been falling, year on year as well as quarter on quarter. Personally, the DPU trend is one of the most important factor for me to make investing decision on Reits.
---
I'm a remisier with Maybank Kim Eng, and as a bonds and REITs investor myself, I guide my clients to build resilient bonds and REITs portfolios. If you like to be guided, please open a trading account to become my client; It's free!
---