Why I like Astrea IV Class A-1 Retail 4.35% retail bond:
Indirectly wholly-owned by Temasek Holdings. Bondholders are ranked higher than equity holders.
Secured bond. Most secured bonds have typically much lower coupons.
Risks are diversified across 596 companies.
Beneficial structured safeguards for bondholders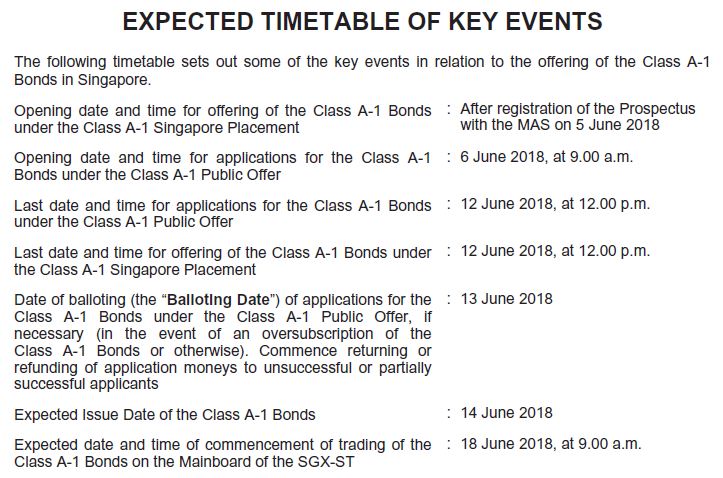 How to apply
Login to DBS iBanking portal.
In "Invest" menu, select "Electronic Shares Applications (ESA)"
Make declaration and select Country of Residence
Select "ASTREAIV"
Acknowledge agreement
Ensure that correct CDP account number is displayed.
Put in the quantities of units. If you want $100,000 worth of bonds, put in 100,000 units. Consider putting in 101,000 units instead of 100,000 to hopefully stand a better chance.
Cost is $2 admin fee to DBS.
Notes :
Cannot buy using CPF and SRS.
Bond can be transferred into Maybank Kim Eng Fixed Income margin account as Grade A securities to be used as collateral to buy additional bonds.
Will I be applying?
Yes, of course. I have taken part in every retail bond IPO except for Aspial bonds. In my personal opinion, the first day trading on 18 June is likely trade above $1.00 because of the huge demand for the institutional tranche of Class A-1.
Additional Links
Bondsupermart Part 1, Bondsupermart Part 2
---
I'm a remisier with Maybank Kim Eng, and as a bonds and REITs investor myself, I guide my clients to build resilient bonds and REITs portfolios. If you like to be guided, please open a trading account to become my client; It's free!
---