Lippo Malls Tr (D5IU.SI) has fallen about 30% in the past year with a series of bad news.
Lippo Malls credit rating downgrade
Lippo Karawaci credit rating downgrade
Indonesian Rupiah weakened 9% against SGD in 1Q 2018
New tax regulation mandated 10% tax on service charges and recovery charges.
NAV keeps decreasing even with acquisitions
On hindsight, even before the news releases, I should have seen the writings on the wall.
As of Dec 2016, Lippo Malls Tr had 20 retail malls. Now they have 23 retail malls. One would think that their NAV will also increase with the acquisitions. But look at the table below:

Their NAV per unit has been decreasing. This is very worrying for me. Is this caused by their sponsor Lippo Karawaci, having tight liquidity issue, selling the recent Malls to them at higher prices?
The following slide by Lippo Malls is now useless as shareholders do not benefit with the increase of properties. The Reit manager is probably the main beneficiary of increased AUM.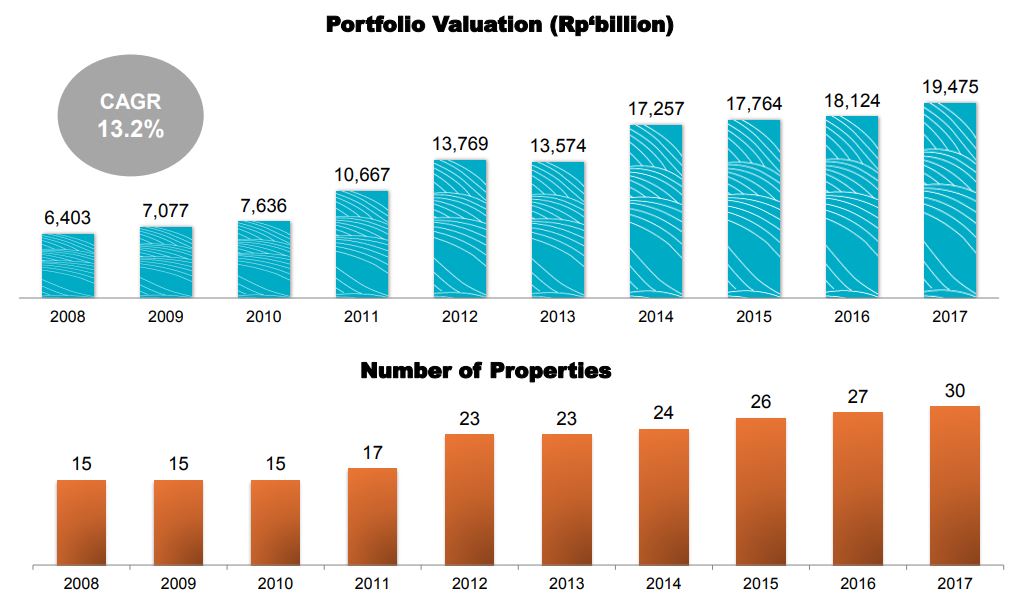 DPU trend continues to decline
The trend of DPU has been decreasing the last 3 quarters.
I have already sold most of the shares, and left some shares bought a few years ago in my SRS account, and Lippo Malls 6.6% perpetual securities issued 1 year ago. My plan is to exit Lippo Malls Tr shares completely. I still plan to hold on to the perpetual securities because their cash flow and profitability is still sound – unless more bad news hits.
---
I'm a remisier with Maybank Kim Eng, and as a bonds and REITs investor myself, I guide my clients to build resilient bonds and REITs portfolios. If you like to be guided, please open a trading account to become my client; It's free!
---