I will try my best to answer some questions the on-going saga of Hyflux based on my experience and from reading the prospectus. I hope it will benefit you the retail investors. I do not hold any positions in Hyflux. I do not have a crystal ball and I cannot be certain my understanding of the terms and conditions stated in the prospectus and recent announcements is 100% correct.
Investors of Hyflux 6% PCS (BTWZ.SI) will not be paid dividends this month. Is the dividends cumulative?
Yes. It is. Page 64 of prospectus :
Since the dividends will not be paid, is Hyflux supposed to pay interest on the dividend that is delayed?
Yes. they are supposed to. Again page 64 of prospectus: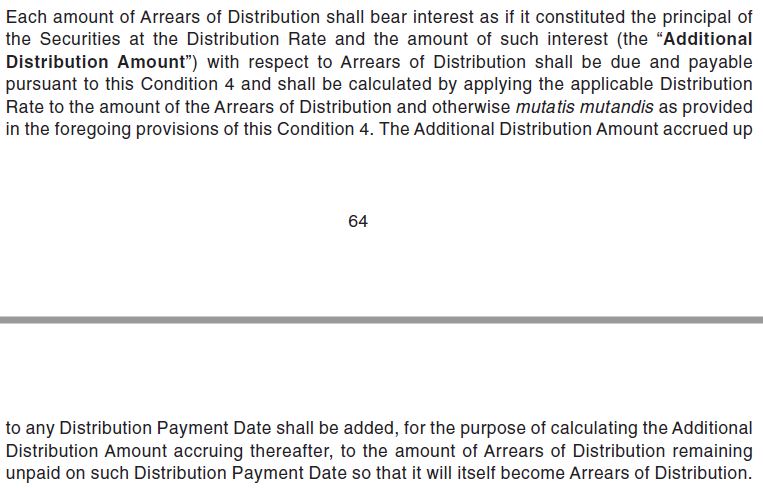 Is Hyflux 6% CPS (N2H) cumulative?
Yes it is cumulative.
Is Hyflux supposed to pay interest on the dividends that is delayed for Hyflux 6% CPS (N2H.SI)?
This is not mentioned in the prospectus. Typically, preference shares are are treated as dividends, like shares, so do not have interest on arrears.
Which retail bond is ranked higher? Hyflux 6% CPS preference shares or Hyflux 6% PCS perpetual securities?
This will be surprising to most people as most would think that perpetual securities would rank higher than preference shares). On page 42 of Hyflux 6% PCS (BTWZ.SI) prospectus: "For avoidance of doubt, the Securities will rank pari passu with the S$400,000,000 6% cumulative non-convertible non-voting perpetual Class A preference shares". They are equal in rank.
When will Hyflux securities resume trading?
Unknown.
Hyflux "requested for a voluntary trading suspension of its shares and securities listed on the SGX-ST in order to protect the interests of each stakeholder group, and to avoid a potential situation where trading in such shares and securities may occur in the absence of complete information on the ongoing reorganisation process. The Company intends to request for a lifting of the trading suspension as soon as it is appropriate to do so without compromising the interests of any stakeholder group."
How long will the court protects protect Hyflux from creditors' claims?
Between 30 days to 6 months, and dependent on future court decisions.
We know that the depressed electricity prices have been the main issue of Hyflux, are there any new issues faced by Hyflux?
Hyflux have reported a new issue in their announcement on 22 May. "Restrictions on the repatriation of monies into Singapore from projects overseas".  It is unclear what this is.
Can Hyflux simply issue a new bond to solve their issue?
No they will find it difficult to do this. Their prolonged weakness has led to short term liquidity constraints. For bonds to be issued, Hyflux said that increasing amounts money have to be placed in fixed deposit accounts.
How is Hyflux going to restructure their debts?
Hyflux "have commenced a court-supervised liabilities reorganisation exercise for certain entities within the Group". No mention of what these entities and which liabilities.
Holders of the bonds, preference shares and perpetual securities should be prepared that their holdings may be converted shares. The key to this will be whether the conversion price offered will be fair or have a haircut.
Shareholders should be prepared for further dilution of their shares. Dilution of shares is also likely if they manage to successful convince potential investors.
What is my opinion of Hyflux crisis?
From Hyflux:
"The Board of Directors has been advised, and is of the view that, to address these challenges, preserve
value and maintain a sustainable capital structure, a transparent and court supervised reorganisation
process is in the best interest of all of the Company's stakeholders. In particular, the Board of Directors
is of the belief that the Applications, if granted, will provide space and room for the Group to continue
their business operations in the ordinary course, and to work with key stakeholders and advisors to
pursue the reorganisation process which includes ongoing discussions with strategic investors and asset
divestments."
I perceive Hyflux seeking court supervision to reorganize their liabilities as good move. They are not going to the courts to wind up the company. They are seeking more time to look into their debts restructuring. Getting the court to supervise gives more credibility and is not seen as acting blur or doing nothing.
Hyflux  bond and shareholders will be glad if Hyflux counters were to resume trading only after their debt has been restructured.  But when trading resumes, no one can predict the stock price. Some see as good move, some cant wait to get out.
I do not like to predict the probability of Hyflux survival. It is more important for investors to focus on managing their positions. Bond, preference shares and perpetual securities investors should be prepared that when trading resumes, their holdings may be "restructured" to shares. As Hyflux releases news in the following months, make a study on whether the conversion price is fair, and whether you would like to continue hold equity shares. This scenario may not happen but it is always good to be prepared.
---
I'm a remisier with Maybank Kim Eng, and as a bonds and REITs investor myself, I guide my clients to build resilient bonds and REITs portfolios. If you like to be guided, please open a trading account to become my client; It's free!
---