After our finance minister's budget speech, I received a whatsapp message forwarded to me, you know, the usual messages that gets forwarded. I thought its fun and i am sharing part of the whatsapp message with you:
Petrol pumps will go away.
Street corners will have power charging stations that will dispense electricity
Electric cars will become mainstream by 2040. Cities will be less noisy because all new cars will run mostly on batteries.
Most traditional car companies will doubtless become financially unviable, with their current business models. They will try the traditional evolutionary approach and try to build better cars, while Tech companies ( Tesla, Apple, Google ) will take up a revolutionary approach and build a computer on wheels.
In 2020, a few self-driving car models were launched. In the next five years, the entire industry will be disrupted.
You don't need to own a car. Instead, you will call a car with your mobile phone, it will show up at your location, and it will drive you to your destination.
You will not need to park your car. You will only pay only for the driven distance, and you can be productive, while being driven in a driverless car.
Our young generation will not need to get a driver's license and to own a car. This will change our cities because we will need 90% fewer cars.
About 1.2 million people die each year in car accidents worldwide including distracted drivers or to drunk drivers. We now have one accident for every 60,000 miles of driving. With Autonomous driving that will probably drop to 1 accident in 6 million miles of driving. That will save almost a million lives worldwide each year
Well I decided to take a closer look at the EV (Electric Vehicle) sector, the related autonomous driving sector, and to understand why its market leader Tesla, keeps rising.
EV sales are set to grow :
Global EV sales could scale 20x from 2.2M units in 2020 to 40M by 2025 (Source : EV-volumes.com).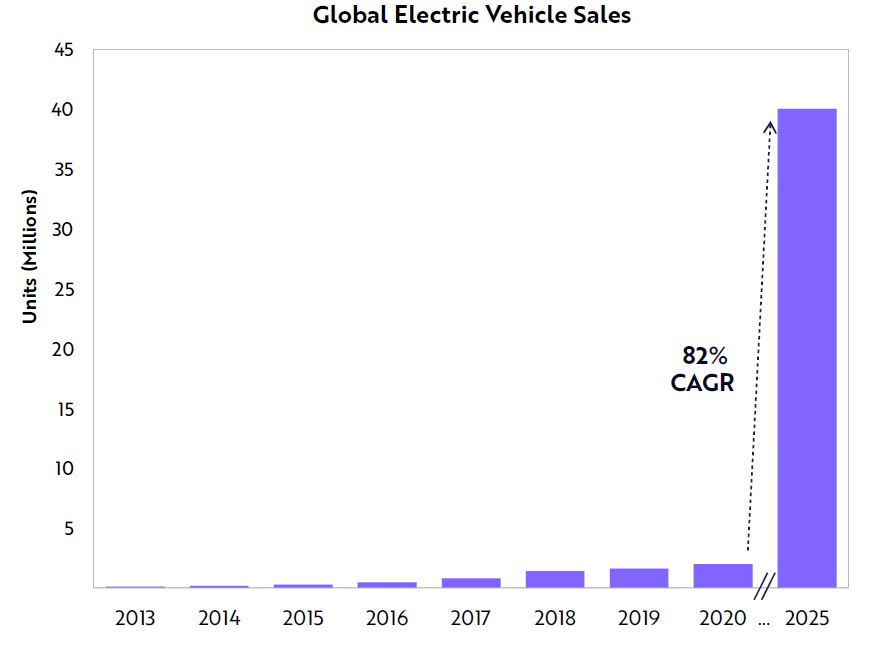 EV price is approaching price parity with petrol cars (Source : Ark Investment)

Why is Telsa share price rising?
According to Cathie Wood of Ark Investment, in the US, Tesla will certainly be leading the charge. Even in China, Tesla is the number 1 brand.
1. A EV driver first priority is the maximum range on a full charge. Tesla EV battery range is currently ahead of competitors. Some claim that Tesla is generations ahead.
2. Tesla not only has the best battery, it is also building supercharging networks. A supercharger is a 480-volt direct current fast charger which can power up a car as quickly as half an hour, compared with several hours for normal chargers. Worldwide, Tesla has some 20,000 superchargers across more than 4,500 locations. In Singapore, Tesla has announced that they will building a charging network in Singapore. Tesla cars can charge using both Tesla chargers as well as standard battery charging stations.
China is also in the EV technology race. The main players are:
Nio. They are the only ones focused on battery swapping instead of charging.
Xpeng. They are like the Chinese Tesla
BYD. 21% owned by Buffet's Berkshire Hathaway.
Baidu. The China internet search giant has joined the race.
2. Tesla is fast. 0-100km/h in 2 to 3.2 seconds for all their models thus far. This is sports car acceleration.
3. Traditional car manufacturers usual practice is to deliver the car to buyer, and service the car maybe once a year. Tesla is very different. It is a laptop on wheels. There are no knobs, switches, buttons. Everything is on a 17 inch touch screen display. Tesla provides wireless software updates to their cars to improve features.  According to this report by Nikkei Asia, traditional car manufacturers are 6 years behind Telsa. Not only that, a Tesla purchased in 2017 can now drive further, faster, and more safely today then in 2017.
4. Teslas is now classified as partially autonomous, meaning that it requires a human driver behind the wheels for some human intervention. However, Tesla's CEO Elon Musk insist that all new Teslas have all the hardware needed in the future for full self-driving.  Apparently Tesla leads as the company with the most self-driving data.
There are other companies trying to deliver on autonomous driving. Notable ones are:
Google Waymo already live testing a robotaxi service in Phoenix, Arizona.
Baidu partnering with Geely to join EV race. They are also live testing their robotaxis service in Beijing.
Alibaba backed AutoX has modified various vehicles for testing in various cities in China. They also received approval to go fully autonomous in California.
The day that Tesla or any car company announce that their car can fully navigate highways and congested cities without a human present, I think their share price will shoot through the roof.
5. Elon Musk has promised a Tesla robotaxi network. In future, taxi commuters can use a Tesla smartphone app to hail a ride. The Tesla owner can specify the times of day the car is available. So theoretically, any Tesla owner can stay at home and watch Netflix, while sending their car to work. If this was possible, its going to be mind-boggling:
If you can own a car that works for you, why would you buy any other car in the world?
How can Uber, LYFT, Grab compete? The taxi fare has to come down.
The operating expense of a EV is already lower than a combustion engine vehicle.
Perhaps one day, Comfort Delgro will once be dominant again, by deploying a fleet of robotaxis. They certainly have the cash to spend.
6. Tesla score very high in brand loyalty. They seem to have a cult following, like Apple iPhone. They have more orders than they can deliver.
7. Tesla do not only produce EVs, they also have a range of Solar panel solutions. They even build Solar and Wind farm for Australia. Read about it here and here.
This article is not a call to buy Tesla, but to try to explain why the price keeps rising. Tesla may be the market leader, but the competition is very, very fierce. Can they stay ahead of their competitors? Even Apple wants to join the race, which is an open secret. Personally, I think the traditional car industry will be disrupted. They are not prepared for a technology war like what the tech companies are used to.  And their established supply chains will be a legacy rather than a help. Some traditional car manufacturers probably have to close or merged with others. The winners will likely be the tech companies who best manage the software and battery evolution.
---
I'm a remisier with Maybank Securities, and as a bonds and REITs investor myself, I guide my clients to build resilient bonds and REITs portfolios. If you like to be guided, please open a trading account to become my client; It's free!
---