Almost every other day, the news read something like this :
"Asian stocks decline as trade concerns resurface". Its getting a bit repetitive.
I was asked for my views of the current market, here is something simple.
Why is there a trade war?
Trump does not seem happy about the massive trade deficits against China, EU and Mexico. We have been reading news of threats of tariffs slapped on these coutries. However, there is a possibility that the worst is over.
As of 27 Aug 2018, Mexico is longer an issue. https://www.washingtonpost.com/business/2018/08/27/us-mexico-reach-partial-agreement-resolve-trade-conflict-step-towards-nafta-deal
As of 10 Sep 2018, EU should no longer be an issue  https://www.bloomberg.com/news/articles/2018-09-10/u-s-eu-trade-talks-progress-with-trump-eyeing-congress-approval
This leaves only China exchanging tit for tat with the US.
How long will it last?
Only Trump and his administration know how long it will last. I do not think Trump wants to be responsible for a major economic downturn. He probably has some objectives in mind before he loosens the screws on Xi.
Using technical analysis on STI, it does not appear to be anytime soon. Below is chart of the STI over the last 10 years, with each candle representing a month. The white line is a 12 month simple moving average.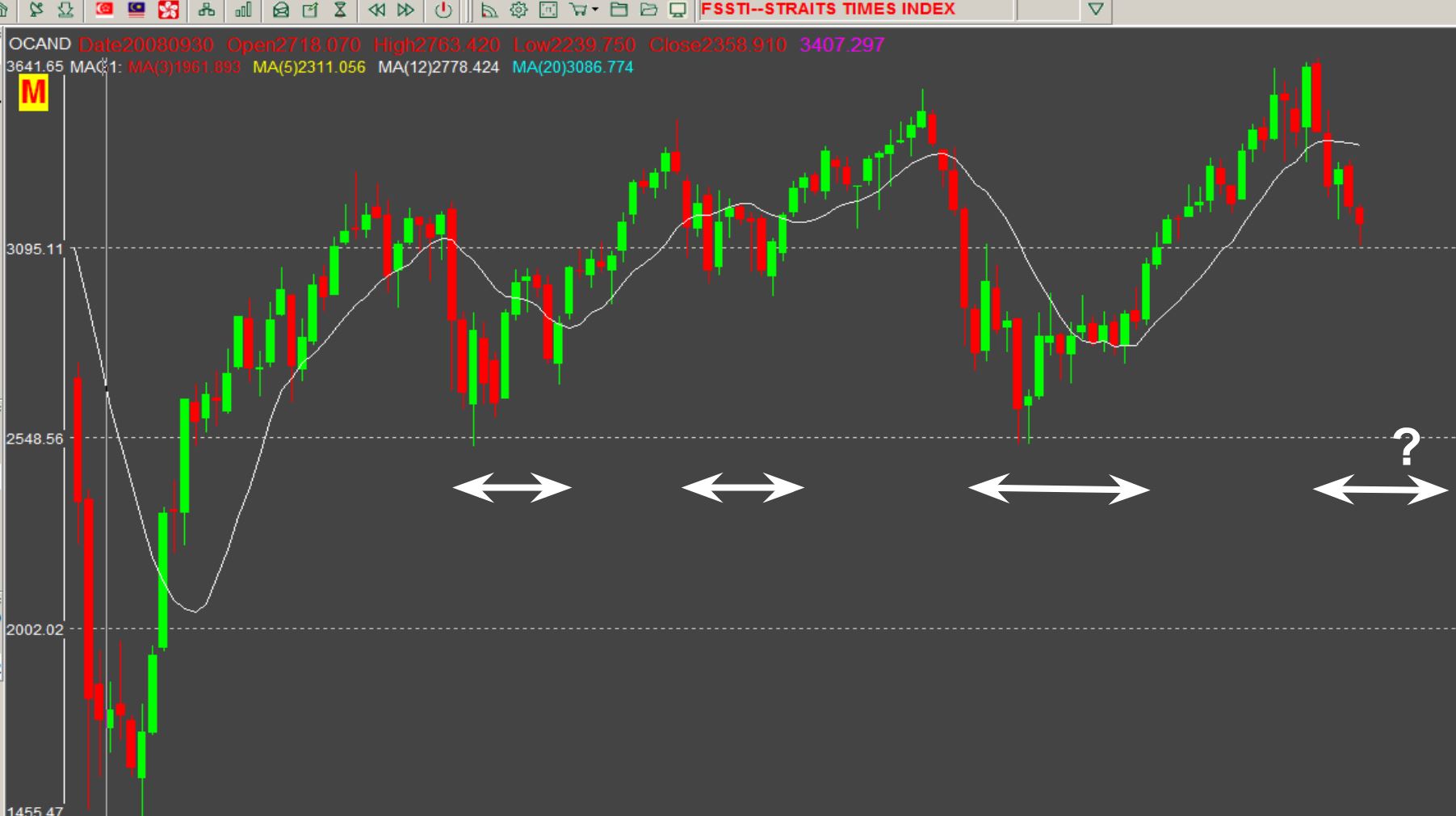 Whenever STI dips below the moving average (white line), it takes about 6 months to 1 year before it goes above again.
4 months have passed since it dipped below the SMA. Maybe the rally will start in Nov, coinciding with the Santa Claus rally?
---
I'm a remisier with Maybank Kim Eng, and as a bonds and REITs investor myself, I guide my clients to build resilient bonds and REITs portfolios. If you like to be guided, please open a trading account to become my client; It's free!
---