Hyflux issued a negative profit guidance yesterday on 20 July. They advised  that the company is expected to "report a loss for the second quarter ended June 30, 2017, largely driven by the weak Singapore power market."
This morning, the stock and retail bonds sold off, but both the retail bonds recovered immediately. The market probably realized that "weak Singapore power market" is an opportunity to buy. The chart of Hyflux 6% CPS looks like this now at 1.30pm.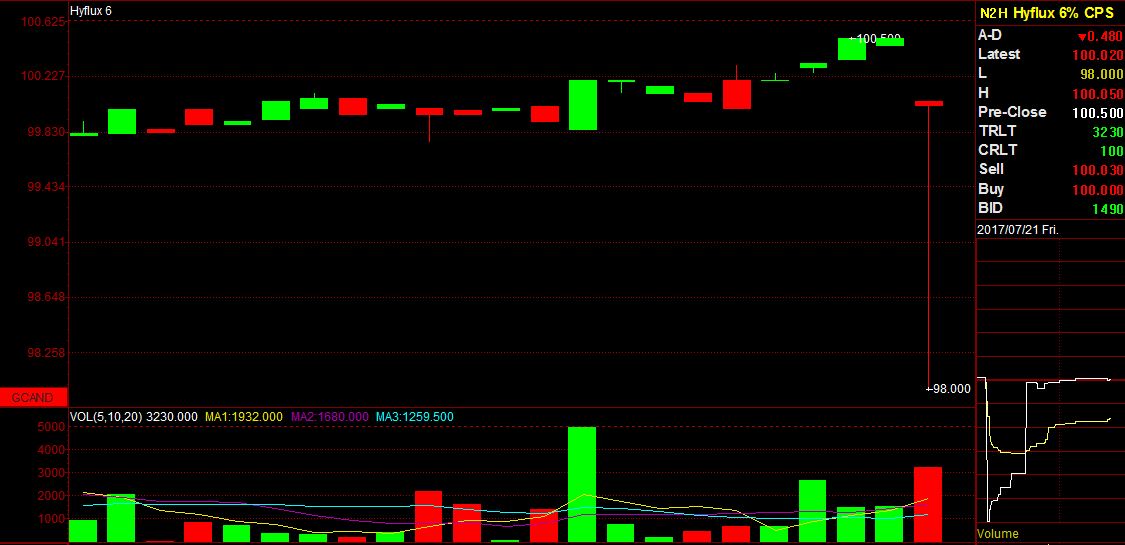 Hyflux 6% CPS will likely be called in Apr 2018, as Hyflux likely do not want to pay an 8% coupon from Apr 2018. The money will be return to investors at par (100). There are 2 more coupon payments of 3% to go. Coupons are cumulative, meaning that if they do not pay, they will have to pay what they previously owe in next coupon date.
In my opinion, any drop is an opportunity to accumulate. Furthermore, the reason for the drop may hurt the mother stock, but should not affect the bonds.
Read more about Hyflux 6% SPC here: http://wealthlions.com/2017/05/low-risk-6-to-8-return-in-11-months/
---
I'm a remisier with Maybank Kim Eng, and as a bonds and REITs investor myself, I guide my clients to build resilient bonds and REITs portfolios. If you like to be guided, please contact me regarding how to become my client; It's free!
---