When i ask investors who attend my seminars if SGD interest rate will increase in 2017, the majority took the view that Singapore will match US Fed increasing interest rates. For me, I have always told them that I will not be so sure if I were them.
My reasons are:
US economy doing well, is Singapore economy doing well?
If we follow US rates as we have been known to do so historically, won't our currency be much stronger than our neighbouring countries? Won't this make us noncompetitive? As far as I know, all asian countries, including China, are devalueing their currency.
I am a very keen bond investor, and have observed corporate bond market rally. Interest rates cant be increasing too much when smart institutional money are buying bonds.
Well, I have been proven right. While the US interest rate has increased 3 times in the last 7 months, look at what happened to our SGD interest rates. Its at 2017 low.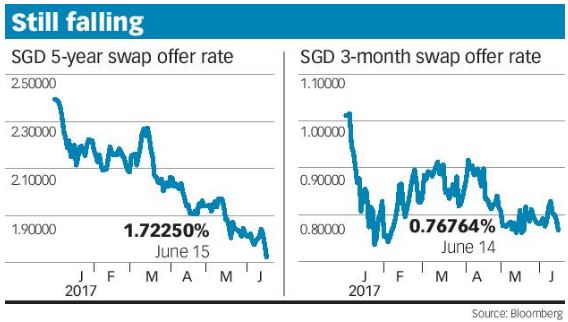 Note that I am not an economist, but I do keep abreast of macroeconomics.
---
I'm a remisier with Maybank Kim Eng, and as a bonds and REITs investor myself, I guide my clients to build resilient bonds and REITs portfolios. If you like to be guided, please contact me regarding how to become my client; It's free!
---