The prices of Lippo Malls Tr (D5IU.SI) have gone down even further after their quarterly results released on 2 Aug 2018.
Here is my take:
Impact on Lippo Malls Tr shares
In Indonesia Rupiah (IDR), Lippo Malls Tr revenue grew

15.9%

, while net property income grew

1.3%

. Lippo Malls is doing well if measured in their native currency.
In SGD, Lippo Malls Tr revenue grew

5.5%

, while net property income fell

7.8%

. Main reason is that our SGD has appreciated 9.7% against IDR over the last 1 year. It has been almost a one way train since Jan 2017. IDR is expected to remain weak as long as Trump continues with his financial wars.
Secondary reasons for decreasing net property income are

higher operating expenses and
tax rates.
These are not expected to improve going forward.
Lippo Malls Q2 DPU decreased year on year and quarter on quarter. Decreasing DPU is a valid exit signal. There are better reits to switch to.
I have held through the period of increasing DPU (marked in red below). Now that the DPU trend is decreasing, I sold all my Lippo Malls shares recently at 0.325 after holding for over 3 years.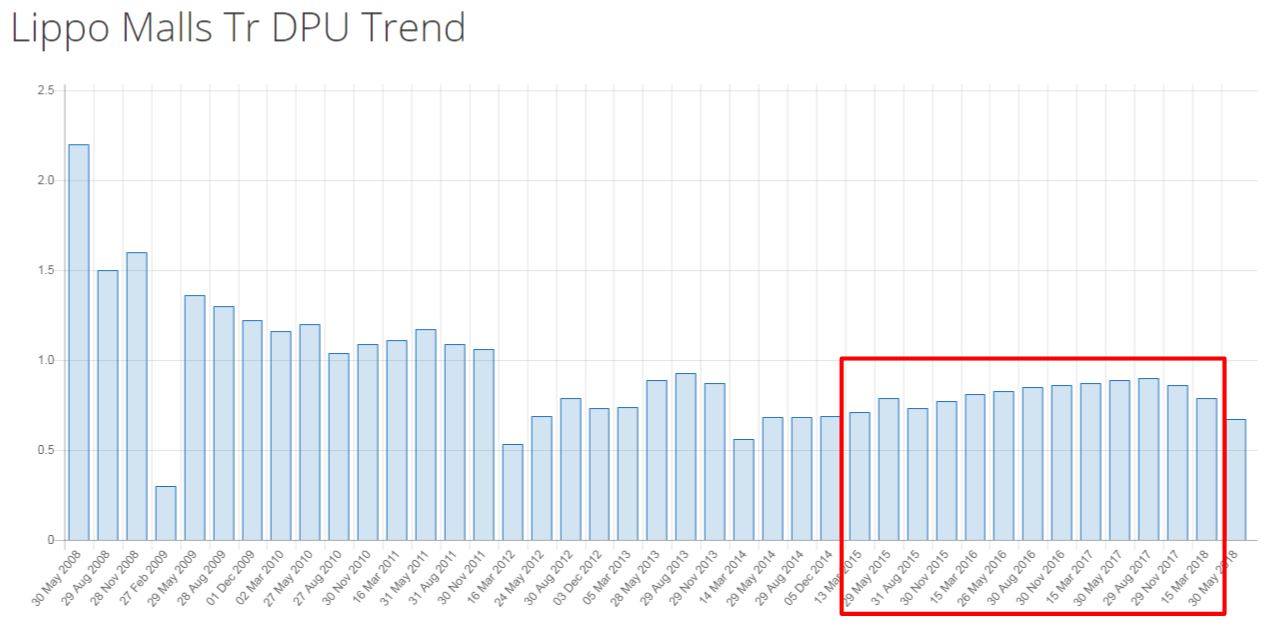 Impact on Lippo Malls Tr bonds
While earnings (net property income) is very important to share investors, credit risk and debt analysis are far more important than earnings to a bond investor.
Debt to Assets (Gearing) is 36%.

Assuming a debt ceiling of 40%, they have another S$80M to fund new purchases.
Counting the S$280M of perpetual securities issued as debt, the debt to assets ratio will then be 50%, which is still decent.
It has S$305M to refinance in 2018. This may be a potential banana skin. But assuming a CIMB analyst is right, then this S$305M should not be a problem. From a CIMB 3 Aug 2018 analyst report of Lippo Malls, "The trust is in the advanced stages of refinancing negotiations and cost of funds is anticipated to be relatively stable."
Interest coverage is 3.6 times. Lippo Malls should not have a problem paying their their financing obligation currently.
 Cash flow from operations –  always positive since IPO

Earnings per unit – always positive since IPO.
Issuers of perpetual securities bonds do not have obligations to pay coupons. However, for Reits, it is mandatory for Reits to pay at least 90% of their income to their shareholders. Hence, in order to pay dividends to the shareholders, they have to pay the coupon to the perpetual holders first. With this in mind, its important to buy only perpetuals of companies that has a track record of paying dividends to their shareholders. With LippoMalls being positive in their earnings since IPO, the risk of not paying the coupon is extremely unlikely. In fact, I cannot remember any SReit that has ever withheld their dividend distribution from their shareholders.
Prices

Lippo Malls 4.5% Nov 2018 is trading at 99.6/100.0. Trading at par means that the market has no concerns of Lippo Malls redeeming this bond.
Lippo Malls 4.1% June 2020 is trading at 95.5/96.25. This is normal price fluctuation. Since the bond was issued in 2015, it has been trading within the range of 94 to 102.
Lippo Malls 6.6% perp and 7% perp are trading around 90 and 92 respectively. These prices are offer prices. The bank traders have been unwilling to bid for the perps for the past few months. This cause these 2 bonds to slide down to their present levels. Are they low enough for entry? You decide for yourself. The YTC based on current prices are about 8% to 9% now.
Based on currently known news, I am satisfied with the credit risk of Lippo Malls. I will not sell Lippo Malls 6.6% perpetual bond that I am currently holding.
---
I'm a remisier with Maybank Kim Eng, and as a bonds and REITs investor myself, I guide my clients to build resilient bonds and REITs portfolios. If you like to be guided, please open a trading account to become my client; It's free!
---