Buffet favorite and his single indicator is the US Total Stock Market Capitalization to US GDP Ratio. It is "probably the best single measure of where valuations stand at any given moment".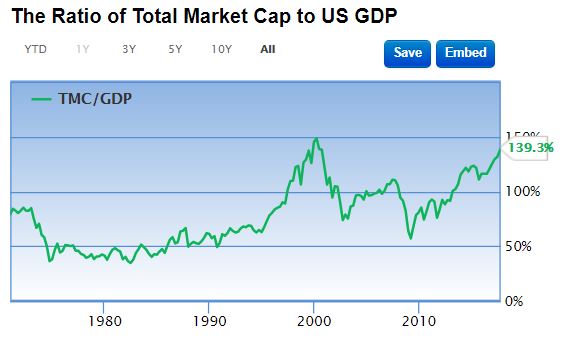 As of 27 Oct 2017, the US stock market is significantly overvalued. It is now second highest in history, only lower than the peak in the 1999 tech bubble. Based on historical data, the US stock market is likely to return -1.6% a year from this level, including dividends. (taken from https://www.gurufocus.com/stock-market-valuations.php)
What does the Buffet indicator mean for me? This market climate is not for entry for investing in stocks for the long haul. Investors need to be opportunistic in stocks selection for the upside.
---
I'm a remisier with Maybank Securities, and as a bonds and REITs investor myself, I guide my clients to build resilient bonds and REITs portfolios. If you like to be guided, please open a trading account to become my client; It's free!
---